Hibernia funding supports upgrades to Fortune Head Interpretation Centre
June 9, 2014
Fortune, NL – The Fortune Head Interpretation Centre is updating and expanding its exhibit space and has hired seasonal staff to enhance its educational programming.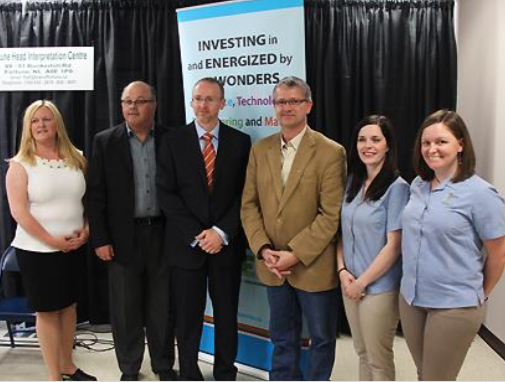 "This generous donation from the Hibernia Management Development Company Ltd. (HMDC) will help us to bring our Centre to another level," says Chairperson Yvonne Harris. "We have plans to update and expand our exhibit and offer more programming to students in the region."
The Centre opened in 2006 and houses a "Trapped in Time" exhibit which includes a collection of fossils and interactive activities. It tells the story of the fossil find at the Fortune Head Ecological Reserve.
"Hibernia is a strong supporter of Science, Technology, Engineering and Math (STEM) educational initiatives," says Jamie Long, president of HMDC. "The Fortune Head Interpretation Centre is offering students an exciting opportunity to study science in its natural environment and we hope it will inspire students and encourage them to pursue STEM studies."

Quick facts:
$852,000 to expand Fortune Head Interpretation Centre's exhibit space and
programming
Exhibits will incorporate Cambrian trilobite fossils located along Fortune Brook
Improved signage (including near the Fortune Head Ecological Reserve)